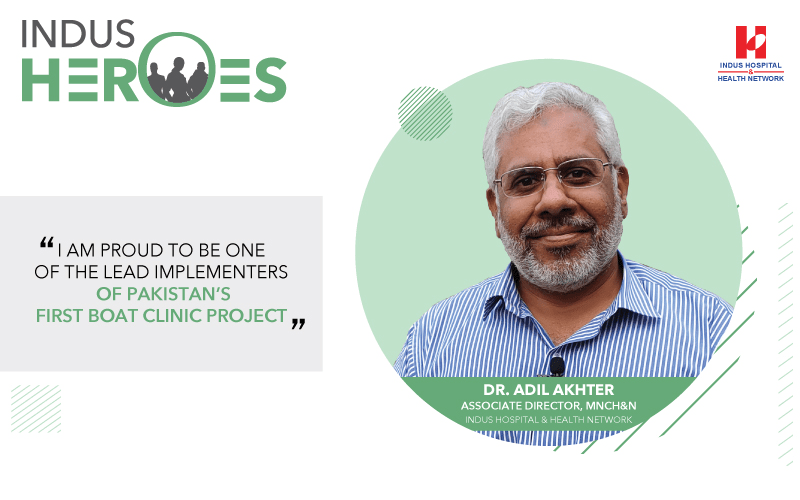 "I enjoy working with children and that is why I decided to become a pediatrician", says Dr. Adil Akhter, Associate Director, MNCH&N, Indus Hospital and Health Network (IHHN).
Dr. Akhter has worked at several hospitals and has taught undergraduate and postgraduate medicine too, but he found his true calling in 2017 when he joined the Indus Hospital and Health Network. He believes that Indus is an organization which works for the down-trodden people of the country. Being a country-wide network, Indus is functional at various levels and in various geographical locations.
Dr. Akhter is currently an Associate Director of the Maternal, Neonatal, Child Health and Nutrition Program at IHHN's Global Health Directorate. His portfolio is broad and covers immunization, antenatal and post-natal care, post-partum issues, and malnutrition in children.
Dr. Akhter considers himself lucky to be engaged with an organization which works in every nook and corner of the country. These efforts are dramatically improving the social indicators of the society and are lessening the monetary burden of the poverty-stricken population.
"My life has completely transformed since I joined Indus. There are a lot of innovative programs happening that keep me engaged. We are always on the go," he says.
While talking about his aha moment, Dr. Akhter says, "I am proud to be one of the lead implementers of Pakistan's first Boat Clinic project." The Global Health Directorate has innovative approaches to reach out to patients in their own communities. It has deployed a container-based clinic, mobile primary care clinics and a boat clinic to provide primary care.
Joining IHHN was one of the best things that has ever happened to me, says Dr. Akhter. "I would not be able to accomplish things if I had been working with some other hospital."
He gives the credit to the management who is progressive and non-conventional. The conducive environment is another factor which helps people to realize their complete potential.