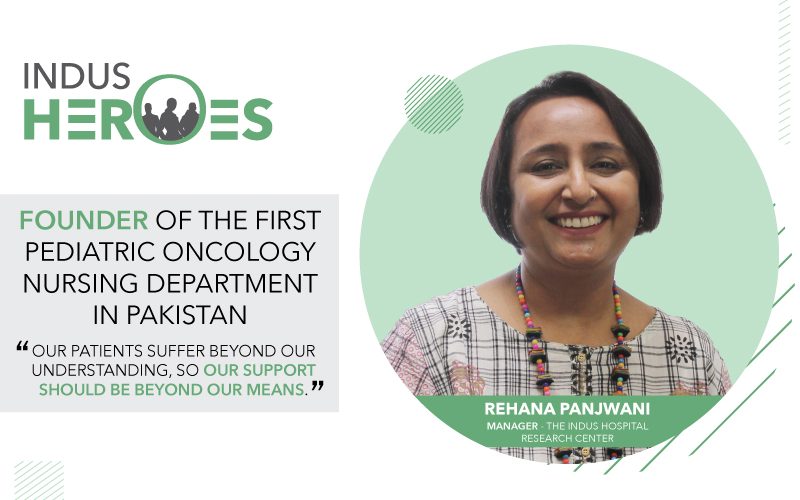 "Our patients suffer beyond our understanding, so our support should be beyond our means." Rehana Panjwani
A highly accomplished professional in her field who has worked for over 20 years, with 16 years of expertise in nursing in pediatric oncology, Rehana Panjwani is passionate about the field and how it can be transformed in Pakistan.
She is the founder of the first Pediatric Oncology Nursing Department in Pakistan, which, since its inception in 2009, has trained more than 350 nurses from all over the country including 15 international nurses from countries in Asia and Africa.
Rehana is currently a manager at the Indus Hospital Research Center after serving 9 years as Manager of the Nursing Pediatric Complex at The Indus Hospital, Korangi in Karachi. These important roles she has fulfilled while being the first nurse enrolled with a full scholarship in the Global Child Health graduate program at St. Jude Children's Research Hospital – School for Biomedical Sciences.
Her dedication and accomplishments in the field of pediatric oncology extend beyond the Indus Health Network. She has been part of the International Society of Pediatric Oncology (SIOP) for seven years, where she serves as a member of SPAC (Scientific and Abstract Review Committee). The first South Asian nurse to be a member-elect for the Nursing Steering Committee, she co-chairs the committee of Pediatric Oncology for Developing Countries.
Rehana is a certified palliative care instructor by the Oncology Nursing Society, a professional association headquartered in the United States. She is also among the 11 nurses, globally, in the WHO's GCC (Global Childhood Cancer) Initiative as a Nurse Specialist representing 'Lower and Middle Income Countries'.  Recently, she was among the recipients of the Sanofi Espoir 'My Child Matters' Nursing grant of 10,000 Euros to promote palliative care nursing education all over Pakistan.
Aside from bringing this external expertise to her work at The Indus Hospital, she has represented the Hospital and the Indus Health Network in more than 15 international conferences, presenting papers and showcasing the nursing work conducted here. Her excellence in humanitarian services is not just limited to her expertise, as she imparts it with empathy and decorum to her patients and their parents at The Indus Hospital.