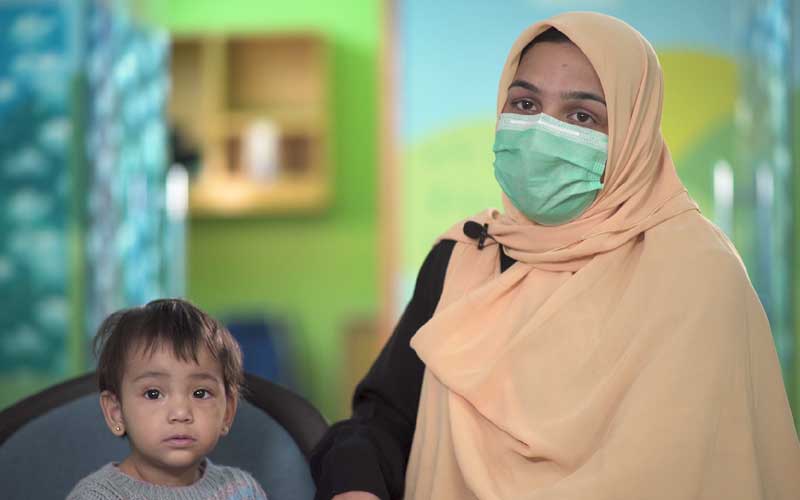 "Whenever the hospital would call and tell us our Huda had gotten worse, I would just break down and pray that nothing happens to my daughter."
A complete surprise to her parents, baby Huda arrived prematurely. Unfortunately, the hospital where she was born had no oxygen for her to breathe properly. Desperate for help, Huda's family looked everywhere. Then, they arrived at Indus and everything changed. As Huda's condition was still poor, she was put on a ventilator for a week. Recalling those crucial moments, Huda's mother describes being unable to hold back her tears, and could only turn to prayers for Huda's health and any sort of comfort. From then on, it was just the brilliant care provided at the Sheikh Saeed Medical Center (SSMC), Indus Hospital and prayers of Huda's family that helped her fight.
"When the doctors took her out of the ventilator box and gave her to me, she gripped my finger and wouldn't let go and when I tried to let go of her finger, she would start screaming and crying" says Huda's mother.
When reuniting, both mother and daughter were overcome with emotions as Huda's mother recalls the happiness and gratitude she felt being able to hold her daughter again. Since then, Huda is growing, developing and thriving; she is a source of hope and courage in her family's lives. From big to small, Huda's mother has pictures and videos from all her milestones as she sees this as Indus giving Huda a second chance at life.
"Her treatment at Indus went really well and no fee was taken, we didn't spend anything on treatment. The best thing is that the care provided here is better than that provided at the best hospitals of the country."
It is stories like Huda's – of which there are plenty – that inspired Indus Hospital & Health Network to inaugurate the SSMC in 2017. SSMC is an 81-bed facility dedicated to obstetrics, gynecology, maternity and child health services. Today, all premature babies that come through those doors, have a real chance at survival.