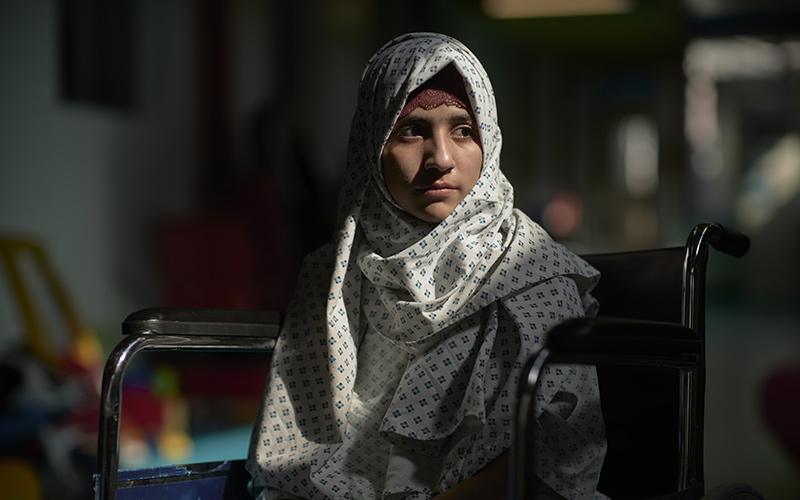 Sidra's journey is one of strength, resilience, and hope. At just 15 years old, she faced a diagnosis of Osteosarcoma and the crushing weight of losing her uncle to cancer just three months prior. Her world was turned upside down and her hope was fading fast.
"I had lost all faith, i thought i'd have the same fate as my late uncle"
 But Sidra refused to let her diagnosis defeat her. She knew she needed the best care possible and insisted on being admitted to Indus hospital, where she found the support and security she needed. As her disease progressed, the doctors at Indus Hospital agreed that her leg needed to be amputated in order to save her life. Despite the fear and uncertainty that came with this decision, Sidra and her family were made to feel secure in their choice by the hospital staff.
"Having cancer shatters relationships and she was scared of being alone. However, Sidra found new companionship and support at Indus Hospital, where everyone looks at her with pride instead of pity."
Through it all, Sidra never lost her spirit. She discovered the power of art during her time at Indus Hospital, and her talent was so impressive that her paintings were displayed in the hospital's very own art gallery for auction. Sidra is now a happy teenager, no longer afraid of what the future holds. She has accepted the challenge of fighting her disease head-on, and describes her body as a pile of building blocks that she refuses to let fall.
Sidra's determination and strength are truly inspiring. She is currently undergoing chemotherapy at Indus hospital and is eagerly awaiting her amputation surgery and hopes to one day join Indus Hospital's psychosocial department so she can continue to inspire other children facing similar challenges. Sidra's story reminds us that even in the face of adversity, there is always hope, and with faith and determination, anything is possible.