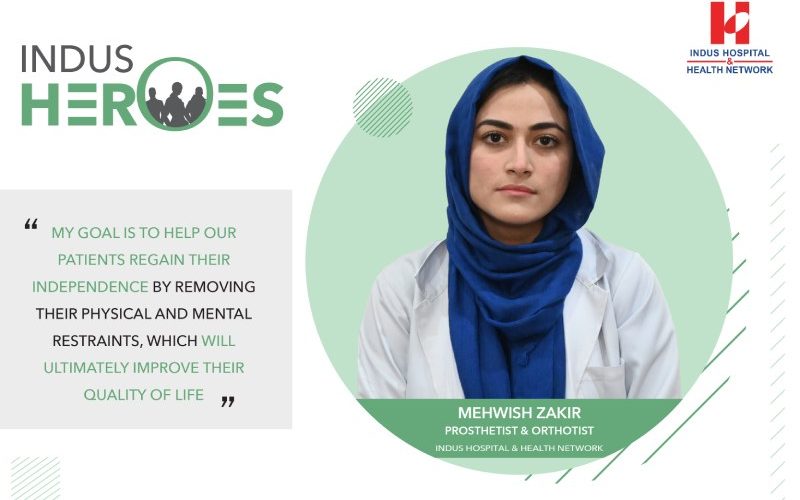 Mehwish Zakir's selfless devotion to her craft and serving patients exemplifies Indus Hospital & Health Network's (IHHN) mission and vision of providing holistic care, free for all.

Mehwish is an orthotist and prosthetist at the Physical Rehabilitation Center at The Indus Hospital, Korangi Campus. As an orthotist and prosthetist, she is responsible for making and fitting artificial supportive devices for patients with physical disabilities.
A graduate of Dow University of Health Sciences' Prosthetics & Orthotics Program, she has been part of IHHN since 2018.
Having spent over 17 years associated with the field of primary care, Dr. Hiba Ashraf's passion for helping others has only intensified with time. She has always been concerned with enabling the people of Pakistan to access quality healthcare, regardless of their age, gender, economic standing, or geographic location. During her time at The Indus Hospital, Korangi Campus, she has brought major reforms to the field of healthcare in Pakistan.
Early life and entering the medical field
Growing up, Mehwish's family urged her to pursue a career in the medical field. Although she was interested in the arts and wanted to pursue something with more artistic flair, she agreed with her parents and followed their wishes.
While deciding on which pre-medical courses to take, she came across the Orthotist Degree application. After reading up on it, she realized that it was in line with her skills and abilities. Her interest in the arts would be fully utilized, and she was sure that she could excel in the field with the right education and training.
First point of contact
Upon completion of her graduation, she started working at the Physical Rehabilitation Center of The Indus Hospital. Mehwish describes her experience as an experience she did not expect. As the first point of contact for patients, she was one of the two people apart from the physiotherapist who assesses the patients when they come. Based on her and her team's evaluation, they determine the medication and other patient needs. They measure the patients in the casting room and take an impression of their remaining limb with plaster.
Sizing is the main work, which Mehwish is responsible for. The model she designs is then handed off to the technicians to mold and finish before being assembled and given to the patient.
The impact
Mehwish's experiences have helped mold her into the person she is today. She recalls her first student case, which she and her classmates had to work on while at Dow. A guard had a paralyzed leg due to a bullet. He was wheelchair-bound, and Mehwish and the team did an ankle-foot orthosis which helped him start walking again. Seeing the guard's reaction on being able to perform something as simple as walking again was a joyous moment for Mehwish. She realized how important her work was and the difference it could make if she continued it.
Majority of patients who come to Indus are from the lowest strata of the society where they do not have access quality treatment. Mehwish dedicates her work to help them, and her interactions with them are worth more than the pay check she receives.
"My goal is to help our patients regain their independence by removing their physical and mental restraints, which will ultimately improve their quality of life."