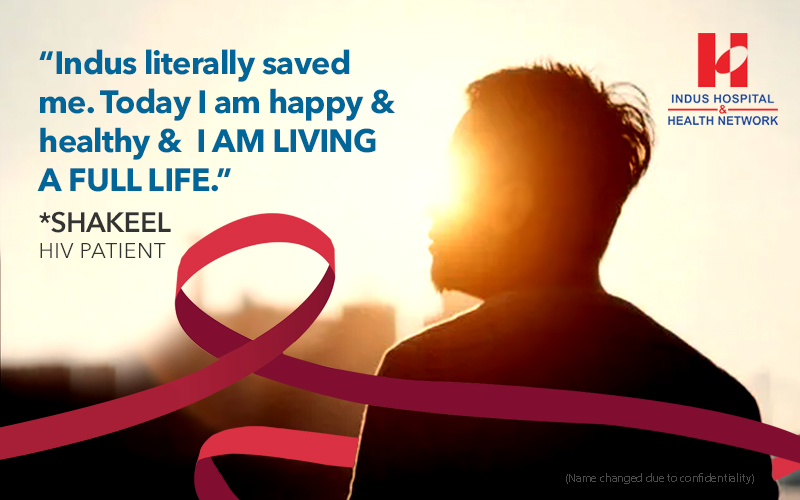 "I used to feel so alone and scared that I was the only one going through this. But when I came to Indus, I discovered that there are so many people like me who are searching for help."
Shakeel is originally from Nousheroferoz and moved to Karachi around 12 years ago to look for work. Newly married with a baby on the way, Shakeel was determined to make a good living for his family, whom he would travel back and forth to visit.
A young man, Shakeel initially struggled to juggle work demands, constant traveling, and the challenges of living in a new city on his own. Stressed out and desperate to blow off some steam, he agreed to a night out on the encouragement of a friend and partook in a dangerous game of drugs and other high-risk activities through which he unknowingly contracted HIV – an incurable virus that slowly kills of the body's disease-fighting ability.
Within a year, Shakeel fell very ill. He was overcome by severe aches in his bones, vomiting, fevers, and rashes all over his body that would grow sore and bleed. Respected and well-liked at his work, his employers tried to accommodate his ill health, but he grew so sick and weak that he could not continue.
"It felt like all my energy had been sucked out of me. I couldn't walk or stand for longer than 5 minutes. I was at risk of getting fired."
Shakeel went to several private clinics and hospitals that put him through a barrage of tests and treatments that drained his wallet and did nothing to cure his symptoms. No one there thought to test him for HIV.
At a nearby clinic, where Shakeel was a regular patient seeking relief for his illness, he met a counselor who suggested he get tested for HIV. When Shakeel broke into tears to see his result as positive for HIV, the counselor referred him to the HIV clinic at Indus Hospital in Korangi.
Upon seeing his condition when he first arrived, the clinic's team admitted him to the hospital and treated his medical issues. They then started him on HIV medication and counseling.  It has been eight months since then, and today Shakeel is completely healthy. He has resumed his usual work at his previous company and is as fit as a fiddle.
"I had completely given up when I first came here (Indus). Today I am happy and healthy. I am living a full life."
Before coming to Indus, Shakeel feared being shunned by his family, friends, and work colleagues. At the clinic, he received counseling on how to live a fulfilling life as an HIV-positive person and take care of the people around him. Shakeel brought his wife and daughter to the clinic on their encouragement to get screened for HIV, and both came and tested negative.
Although very few people know about Shakeel's HIV-positive status, he is committed to educate his friends and family about the dangers of using drugs and the necessity of getting medically assessed and tested at an early stage of any illness.
"I know the person who infected me. After coming here, I understood that I needed to help him and look out for the people he could potentially infect. It took a long time, but eventually, we convinced him to seek treatment."
*Names have been changed for privacy