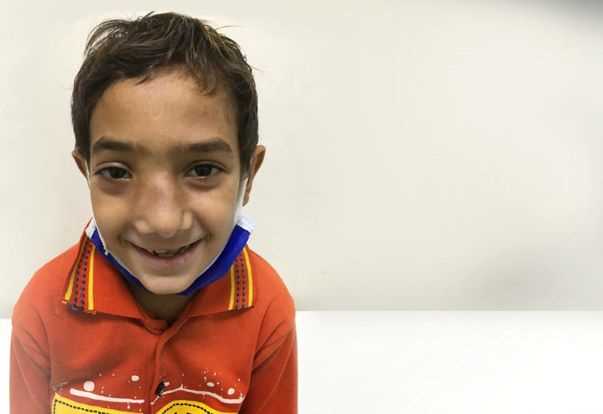 Muhammad Hussain woke up in the middle of the night complaining of severe pain in his nose. The 6-year-old boy's parents worriedly took him to a local clinic where they found that there was pus filled blister in his nose. The doctor gave him medicines but the blister continued to grow into a rare and complex tumor of the nose and para-nasal sinuses. Hussain's parents urgently took him to a nearby hospital, where he was immediately operated for the nasal mass.
Six months after the surgery, the tumor returned with vigor, this time affecting his eye and causing facial disfigurement. Hussain would cry in agony and the parents felt completely helpless. Recommended by a family member, the parents brought Hussain to The Indus Hospital. The doctors immediately performed a CT scan which revealed that the tumor had extensively extended to the eye and was residing on the optic nerve (nerve of vision). This posed a terrible threat to the child as it had a potential for permanent loss of vision. "When the doctor explained what problem our son has, we were terrified that our boy would lose his sight forever. How will he live a life with blindness", Hussain's mother said, wiping her tears.
All required investigations and preparations were made and Dr. Asif Arain, Consultant ENT Surgeon performed a minimally invasive surgical procedure. Through the endoscopic approach the clinical experts successfully removed the tumor and spared the optic nerve. Hussain has now recovered well with a normal vision and no bulge in the eyeball. The nasal potency is also at full extent.
Muhammad Hussain after two years of agony is back to his happy playful self. The doctors are now planning to correct his nasal disfigurement for which Hussain visits the hospital for regular follow-ups and monitoring of his recovery progress.
The delighted parents are very happy for their son's recovery, "We are extremely grateful to Dr. Asif Arain and the entire staff at The Indus Hospital, who supported us, comforted us and most importantly took care of our Hussain with so much love. They have saved our son and we can only pray that Almighty reward them with the best."