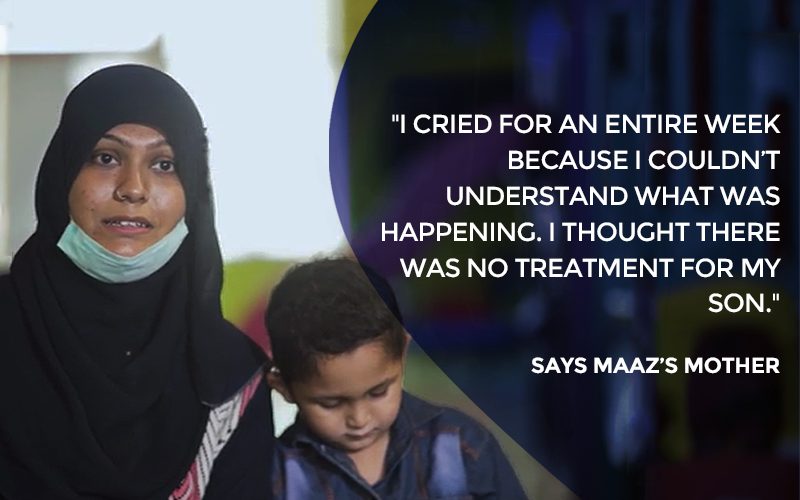 A happy-go-lucky kid, Mohammad Maaz could usually be seen running around the house, chasing birds, and hopping from one room to the other.
Just months before he was about to turn four, Maaz's mother noticed her son had stopped his usual shenanigans but had started to clutch his legs and complain of pain. Suddenly, he was no longer going around as the bolt of lightning his parents were used to. He was suddenly so tired all the time, lost his appetite, and rapidly started losing weight.
As alarm bells started ringing, his parents rushed him to the hospital, where the doctors recommend he undergo blood tests. His parents brought little Maaz and his reports to The Indus Hospital where the doctors told his parents he had blood cancer.
"I couldn't really understand the situation. I cried for an entire week because I couldn't understand what was happening. I thought there was no treatment and that my son could not be treated," says Maaz's mother.
Like any other mother who had just found out her son had been diagnosed with cancer, she kept asking herself only one question: why did it have to be my son?
"These thoughts kept running through my head all the time and I would just keep thinking what would happen next," she said.
But things turned around for Maaz as he underwent treatment at Indus.
"I am 110% satisfied with the treatment provided at Indus. The symptoms that we came with here, and the disease we were told he [Maaz] had, we had thought that where in Pakistan would we be able to get proper treatment here in Pakistan," she added.
"I am thankful to Allah., I still can't believe that my son is on the road to recovery from something so big, so fast."
Today, Maaz is on the road to recovery and back to his old self