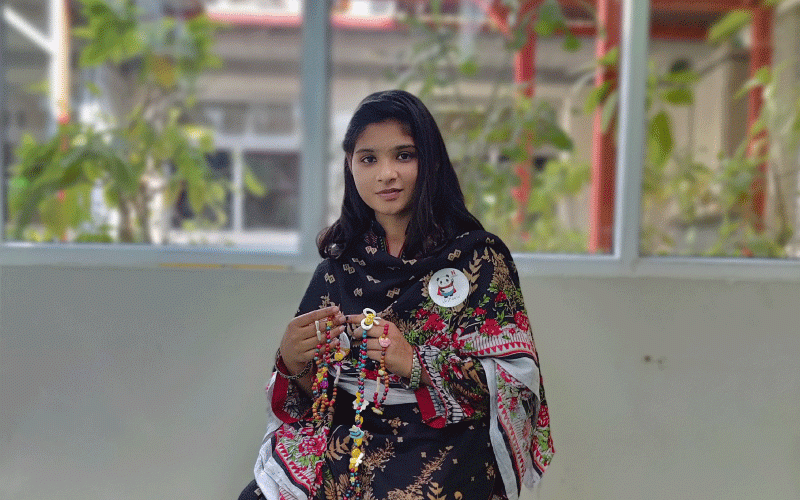 In January 2018, Sarah aged 14 was diagnosed with Blood Cancer. A resident of Hassan Colony in Nazimabad, the news of Sarah's illness shattered her family. To know your child has a terminal disease is devastating, but not being able to afford treatment is crippling.
However, help appeared in the form of The Indus Hospital and Sarah was brought in. At the hospital CBC tests and CT scans diagnosed her with Leukemia. The team of doctors and mental health counselors jumped into action immediately, putting Sarah on the appropriate treatment track to start Chemotherapy. The counselors took Sarah under their wing giving her and her family emotional support to battle her illness. This is when Sarah befriended her beads, recording her two – year-long struggle.
An extremely loving and friendly girl, Sarah proudly laid out her colorful beads, carefully segregating each bead representing her chemo and OPD sessions. There were a total of foursad faces on the chains. Sarah with a slight frown narrated that this was when she had to discontinue her studies and part from her family and friends. However, the doctors at Indus were hopeful and soon the chains were filled with smiling beads documenting the day she got her hair back, resumed her studies, and celebrated her birthday with friends.
Though the biggest smile appeared on her face when she proudly held up the infinity shaped bow. "For me, this is the happiest day of all because I have completed my treatement and I am a cancer survivor."
As bleak as her illness was, Sarah's vibrant personality and support team at Indus did not let her falter.
Today Sarah, 16 years old is back to living a healthy life as a happy teenager.