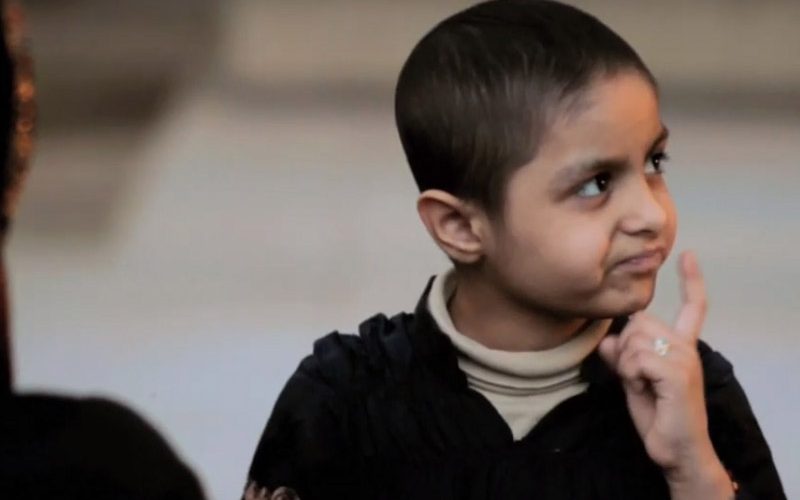 One Step at a Time
"The two toughest times of my life were when she was diagnosed with cancer and when the doctor told me that they had to amputate her leg", Abid Ahmed said.
Abid was narrating the heart-wrenching story of Ayesha. "I live in Hyderabad and work as a rice distributor. I have six children, and Ayesha is the second last in her siblings. She was five when we noticed that she started limping. We took her to nearby doctors but they were clueless. We took her to every hospital in Hyderabad but nobody had any explanation for what was happening to her.
"A doctor suspected that she might have cancer and suggested that we should take her to the Indus Hospital (TIH), Karachi. In 2017, we brought her to Indus where she was diagnosed with Osteosarcoma in her left femur. The doctor told us that she would have to go through hip disarticulation – complete amputation of the left leg from her hip socket.
"It felt like the sky had fallen on us but if we wanted to take a chance at saving her life, amputation was the only option. We knew this meant she may never have a chance at a 'normal' life like children of her age, but we had no choice but to go through with it."
Indus Hospital's Paediatric Psycho-Social Department has a team of qualified and trained mental health counsellors who help patients, amongst other things, with procedural preparation, motivating them to face challenges and overcome hurdles. Child Life Specialist, Atoofa Najmi says, "Ayesha was anxious, fearful and reluctant to undergo the procedure, and she attended several sessions of procedural counselling. By addressing her anxiety and fears, the sessions helped in reducing her fear and helped her prepare for upcoming surgery, following which she went through the disarticulation."
Ms Najmi further said, "After the amputation, Ayesha started to withdraw, and seemed to have low self-esteem. She stopped speaking completely, even to the ones she used to speak to earlier on. One of the only things she said to us after her surgery was 'do you know when I woke up, I was all alone and I didn't have one leg?'"
During her treatment, Ayesha got enrolled in Indus Hospital's hospital-based school 'Indus Ke Sitaray'. With the help of her teachers and class fellows, Ayesha started opening up and interacting with people again. She expressed the desire to walk like other children, so her class fellow Farishta supported her in taking steps, by placing Ayesha's hands on her little shoulders, and practiced walking with her. In the graduation ceremony, Ayesha walked the procession, just like her class fellows.
Today, Ayesha helps the Psycho-Social team and acts as a mentor and inspiration for other children who are required to undergo limb amputations. She invites them for a question and answer session, where she addresses all their concerns based on first hand experiences. She models walking for them, and if she feels like it, she even shows them how she can run!
Ayesha has now received a prosthetic limb, and is undergoing rehabilitation in the Physical and Rehabilitation Center, TIH. "We never thought we'd ever see her walk on her own again, but her resilience has left us astounded with every step she takes."
Osteosarcoma is a type of cancer which begins to develop in the bones, usually at the end of long bones for example, the femur towards the knee (50% of cases occur around the knee). It is the most prevalent primary malignant bone tumour in children. It most frequently occurs in older children and is rarely seen in the under-5 age group.