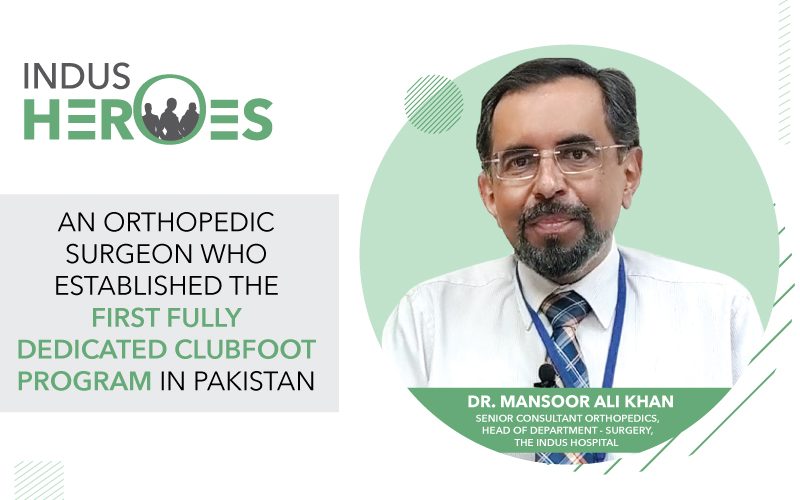 Dr. Mansoor Ali Khan is a well-known orthopedic surgeon who is not only recognized for his skills in joint replacement surgeries but also has another feather in the cap i.e. Ponseti treatment for clubfoot.
Currently serving as a professor of orthopedics and head of the department of surgery at The Indus Hospital, Dr. Khan along with Dr. Amin Chinoy, another orthopedic surgeon at the Hospital has been part of the medical facility since day one.
"I had been coming to the hospital when the building was under construction. When I joined Indus, it was just me and Dr. Chinoy. We used to look after the patients in the emergency, admit them, operate on them, change their dressing, and worked on their physiotherapy as well," says Dr. Khan.
"From looking after them to their physical rehabilitation we used to do it all."
With a growing need for orthopedic surgery, the hospital soon expanded the department and now it has five orthopedic surgeons and 16 residents.
Dr. Khan whose interests lie in joint replacement, pediatric orthopedics, and sports medicine also has the distinction of setting up the first fully dedicated programmatic clubfoot program in Pakistan after he did a fellowship in pediatric orthopedics at the University of Iowa, USA. The program focuses on children with clubfoot where they are given plasters and braces to correct it.
With the highest number of clubfoot patients in the country, the Indus Health Network started its "Pehla Qadam" program in its cluster hospitals in Badin, Lahore, Muzaffargarh so that children do not have to go to far-flung areas and instead get treatment at the nearest place.
A chance meeting in Dallas, a few years ago led to Dr. Khan meeting Dr. Umer Burney, another orthopedic surgeon. Dubbed as "marathon surgeries" Dr. Khan along with Dr. Burney performed 82 joint replacement procedures over just five days when Dr. Burney's team visited The Indus Hospital in 2019.
Through these surgeries, Dr. Burney and his team shared the latest techniques and processes of conducting surgeries with Dr. Khan and his team of doctors and residents.
As the head of the department of surgery, Dr. Khan recently finished a Harvard University training program in advanced surgical training leadership. The mini MBA program enables doctors who run their departments to work better to run their programs.
With the Indus Health Network working on expanding its campuses in Karachi and Lahore, Dr. Khan is hopeful that they will soon be able to train more Pakistani surgeons in the 1,000 plus bed hospital.
"The Indus Hospital is a blessing for patients who can't afford expensive joint replacement treatment. Since day one, we have been witnessing an increase in orthopedic patients because we offer the best treatment for free."