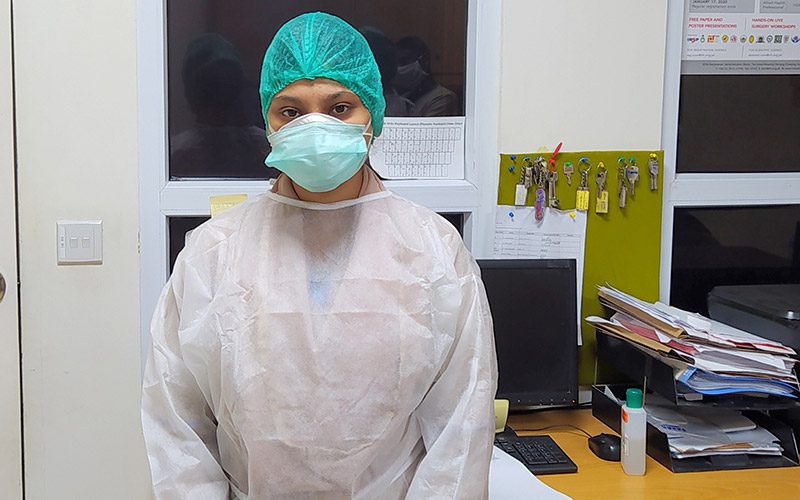 Unzala Erum, a nurse at The Indus Hospital has been working in the COVID-19 Emergency Room since day one, fighting this great battle against COVID-19 day and night.  
Despite the strict precautions and protective gear, Unzala contracted COVID-19. She went into isolation for 14 days and self-administered her treatment. Following that, she was given three diagnostic tests 24 hours apart. When all 3 came back negative, she immediately returned to work. She relates, "I am really scared this time as I have gone through the physical and emotional trauma of this disease. But fighting COVID-19 has made me feel more dedicated to my profession. I can never imagine sitting at home at such a grave time when I know I am needed the most. Despite the pain, solitude and fear that I experienced, I used to pray to the Almighty for a speedy recovery so that I could come back to serve more patients. I understand that I am at a high risk again but I also know that I have helped several patients heal and have seen them return happily to their families, leaving us with loads of prayers. Those prayers give me strength and keep my spirits high in these difficult times." 
She also admitted that tackling the fear and anxiety of spreading the disease to your family; working under enormous pressure; feeling exhausted as hours have stretched longer without a clear end in sight; suffering beneath layers of personal protective equipment; fighting fatigue, stress, and uncertainty; and, most of all, dealing with the distress of their dying patients, many of whom are slipping away without their loved ones at their side, it's all physically, mentally, and emotionally draining.  
Everyone must recognize that we will all be living under the shadow of COVID-19 for a long time to come, and caring, compassionate and courageous warriors such as Unzala are our ray of hope in these dark sorrowful times. They are truly our uncapped heroes.