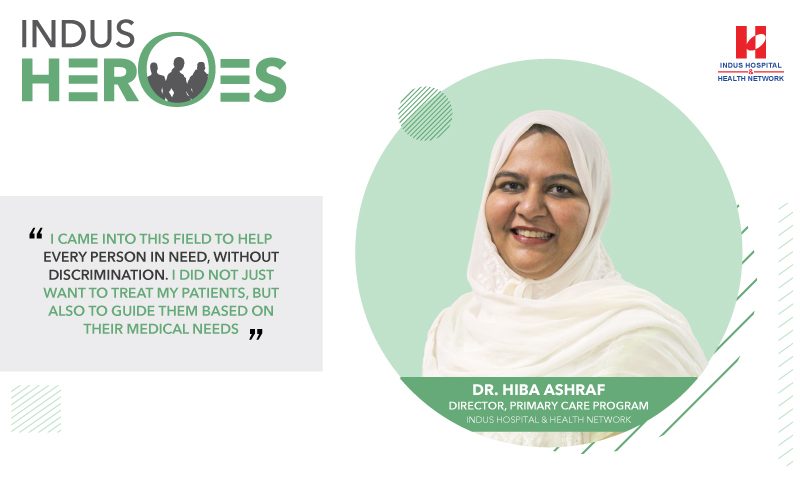 "I came into this field to help every person in need, without discrimination. I did not just want to treat my patients, but also guide them based on their medical needs."
Having spent over 17 years associated with the field of primary care, Dr. Hiba Ashraf's passion for helping others has only intensified with time. She has always been concerned with enabling the people of Pakistan to access quality healthcare, regardless of their age, gender, economic standing, or geographic location. During her time at The Indus Hospital, Korangi Campus, she has brought major reforms to the field of healthcare in Pakistan.
Her Motivation
A major pull to the field of primary care was the emphasis on its continuity. Rather than a standalone interaction, continuity of care considers healthcare to be a process that develops over time. Dr. Hiba always knew that she wanted to provide comprehensive treatment in whatever field she chose. She desired to enter the communities of her patients and bring healthcare to their doorstep. The area of primary care perfectly encapsulated those aspirations. Another factor that attracted her was that it was holistic and unbiased with whom it catered. Furthermore, it provided medical assistance to people of all ages, genders, and socio-economic classes. Dr. Hiba's sincerest wish was to help all those around her.
Dr. Hiba has highlighted the major problems in primary healthcare provision in Pakistan. Although Pakistan has sufficient infrastructure relating to primary healthcare systems, there is a fragmentation in the provision of care. Moreover, there is a lack of referral linkages between primary, secondary, and tertiary healthcare facilities. Most budgets focus on tertiary care, nearly forgoing primary care altogether. Research has shown that developed countries with high Health Outcome Indicators have robust primary healthcare systems. This led to Dr. Hiba making it her mission to amend and transform the landscape of primary care provision in Pakistan.
Her work with the IHHN
She joined The Indus Hospital, Korangi Campus as a Junior Consultant. Her objectives of making indiscriminate healthcare accessible to all perfectly aligned with Indus Hospital & Health Network's (IHHN) vision of "quality healthcare, free-of-cost." Dr. Hiba's expertise and endless compassion for her patients helped her rise quickly through the ranks at the hospital. She was soon promoted to the Director of the Residency Program before being promoted to the Head of Department of Family Medicine. She has now advanced to the Director of the Primary Care Program at Indus Hospital & Health Network. Her responsibilities include strategic planning, monitoring, evaluating, and developing the network of primary healthcare sites throughout all IHHN centers across Pakistan. Dr. Hiba furtively believes that standardization of facilities is crucial and works to ensure that the same quality that is offered in Karachi is maintained at Badin, Tharparkar, and all IHHN sites.
Dr. Hiba has used her platform at IHHN to achieve her vision of a more integrated primary care system in Pakistan. She developed a model based on the Hub and Spoke model and implemented it across the 26 Indus Hospital & Health Network sites. The hospitals acted as hubs and the independent facilities as spokes. For the successful execution of the model, Dr. Hiba established sturdier referral linkages between primary, secondary, and tertiary institutions, integrating these services more deeply. Her efforts were rewarded, as she managed to help over a million patients with her primary healthcare model over one year.
Her Accomplishments
In a society where women are largely not offered the same opportunities as men, Dr. Hiba is proud to lead a primarily female-dominated team. Under her tutelage, the team provides innovative solutions to complex problems. As a result, they generated plans for a container clinic, Pakistan's first-ever mobile Boat Clinic, and other creative ideas to reach people across Pakistan. These helped facilitate healthcare provision to areas that had not received quality medical attention in over 70 years. From the southernmost city of Karachi to Kashmir in the high north, Dr. Hiba and her team are determined to make primary care accessible at every doorstep.