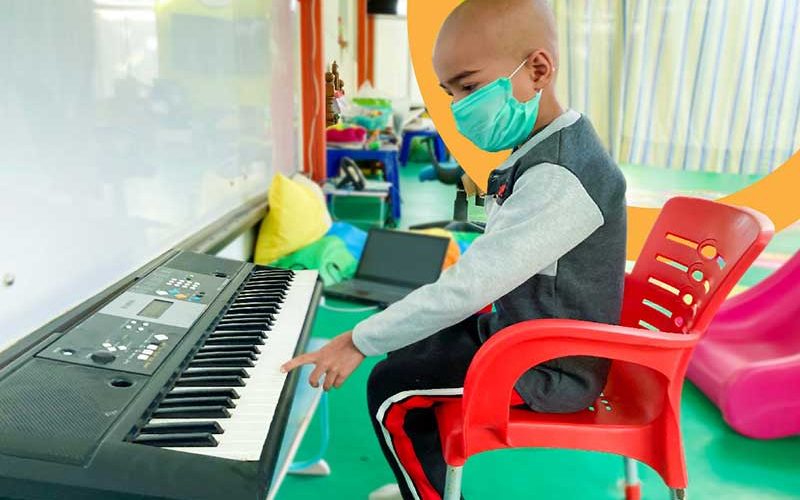 Ikram should have been running down the streets with his friends and planning his next mischievous move to annoy the elders in the village. Instead, he was quietly lying down in a hospital bed, waiting for his next chemotherapy session to begin.
Ikram is only a 9-year-old boy from Quetta, Pakistan, battling stage 3 Burkitt Lymphoma; a form of cancer in immune cells.
This is his story.
Ikram had been sick for days; high fever and vomiting wouldn't let him leave the bed for months. Hospital after hospital in the city admitted him, tested him, gave him medication but to no avail.
He developed extreme abdominal distention; causing his abdomen to expand abnormally. Following his condition, the doctors operated on him and found a cancerous mass in his stomach. This is when the family was hit with not one but two heart-breaking news; their son battling cancer and the unavailability of his treatment in the entire city.
Luckily, Ikram was referred to the Pediatric Oncology Department at The Indus Hospital in Karachi by health professionals in Quetta. "When we brought him here, he weighed only 28 lbs. I would take him in my arms and feel nothing but his bones. I would bring him his favorite homemade curry, but he would vomit everything. As a parent, it was heartbreaking to see my son suffer like this," said Ikram's father, who left everything in Quetta and came to Karachi, in the hope to save his little boy.
With the efforts of The Indus Hospital's staff, Ikram is on the way to recovery. He has been under treatment since November 2020, with dreams bigger than his fears and hopes higher than his terrors.
He needs your help to complete the final round of his chemotherapy! Donate now and give him his childhood back!
Our warriors give us hope, and your support gives them life!
Hear what Ikram's father has to say about his experience at the Indus Hospital and Health Network.