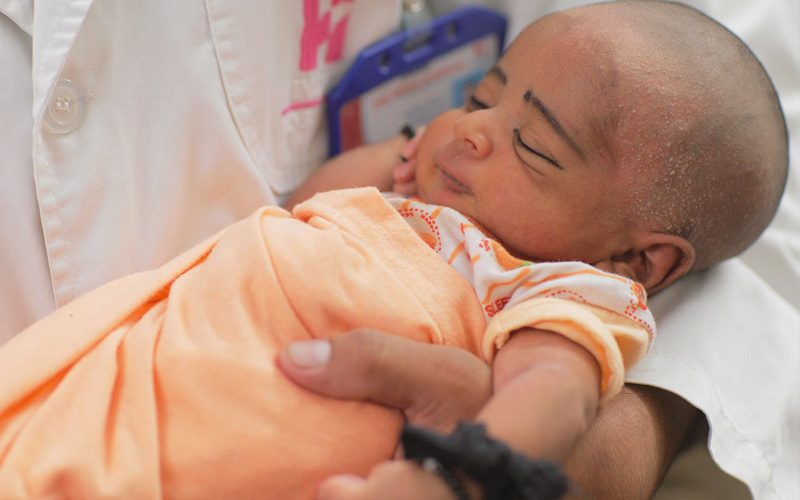 Safe Birth: Every Mother's right
Anand and Bhawna are residents of Mithi, Sindh. Soon after their marriage Bhawna found out that she was pregnant. However, she had some complications, her platelet count was very low due to which her nose was bleeding profusely. Her condition was posing a danger for her and her baby's life. The couple visited all hospitals in Mithi and nearby towns but none of the hospitals were able to treat her.
Hoping to find a hospital that would treat them, Bhawna and Anand arrived in Karachi. Bhawna's sister in-law brought her to the Indus Hospital- Sheikh Saeed Memorial Trust campus in Korangi, Karachi. Despite the fact that Bhawna was a high-risk pregnancy case, Dr. Samia Shujaa, head of the Gynecology and Obstetrics department, admitted her to the hospital. Dr. Shuja stated that Bhawna's family spent all what they had but no hospital was ready to admit her in this condition but we were determined that it is possible to treat her so her case was taken in as a challenge and then with the grace of Allah both the lives were saved.
The family had lost hope to see both Bhawna and the baby alive and the normal delivery was not less than a miracle for them. Anand was so relieved that he was able to become a father to a healthy baby girl and it was only because of Indus Hospital that his wife received the best treatment without any charge.
Pakistan has third highest burden of maternal and children mortality across the globe. The Indus Hospital, Sheikh Saeed Memorial Campus (SSMC) is playing an important role in improving the maternal and neonatal health scenario in Karachi. SSMC is a comprehensive, free-of-cost Gynecology and Obstetrics hospital which serves patients from all over Karachi and its neighboring areas. The hospital started functioning in 2013 under Dehlian Trust but in 2015, its management was handed over to The Indus Hospital. It's a 70-bed hospital, catering to approximately 300 deliveries every month and serving around 200 patients daily through its out-patient clinic.