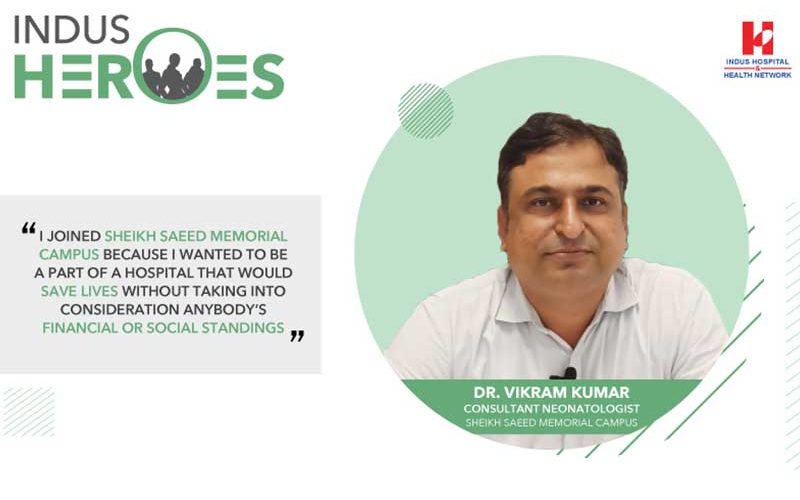 "There are many places in Karachi and Pakistan where there are unskilled technicians treating people. There are no dedicated facilities for these people, and the lack of access to healthcare is worrisome."
Growing up in Islamkot, Dr. Vikram Kumar knew that he wanted to do something big. Islamkot is located in the poverty-stricken Thar desert in the province of Sindh and lacks basic healthcare facilities. Dr. Vikram's interest in helping advance the cause for pediatric services came from his observations of his surroundings. It was a poor place where there were no facilities to help women deliver their children. Due to complications and lack of facilities, there were many complicated births where children passed away due to the lack of medicine and equipment.
This was when he decided to pursue Pediatric Neonatology. During his academic career, he realized that the maternity problem was not only limited to Islamkot, but it's a country-wide problem. The child mortality rate is high even amongst developed nations, and the country needs a special unit in every healthcare facility that could save the children and help families. He completed MBBS from Sindh Medical College and did Fellowship (FCPS) in Pediatric Neonatology from the Aga Khan University Hospital.
In 2018, Dr. Vikram joined Sheikh Saeed Memorial Campus (SSMC) under the Indus Hospital & Health Network (IHHN). "The reason why I joined SSMC was that I wanted to be a part of a hospital that would save lives without taking into consideration anybody's financial or social standings. IHHN was the perfect place for this."
For Dr. Vikram, what really pulled him was that the hospital would help people who could not afford treatment now had access to quality healthcare.
"There are so many unskilled technicians treating people in the country. There are no dedicated facilities for newborns and their mothers, and the lack of access to healthcare is worrisome. That's where we step in to offer services that will help children and provide them with quality treatment," says Dr. Vikram when asked about the current situation in the country. "Children that require intensive care need services that are available in a few hospitals. At Indus, we have approximately eight secondary and tertiary care and maternal centers throughout
Pakistan that take care of 30,000 mothers and children every year. IHHN and its services are spreading to help newborn babies and mothers have a better outlook."
In 2017, Dr. Vikram, with his colleagues and senior management, started a neonatology intensive care system in the maternity center at SSMC. The hospital has seen great success since his joining, and his work continues as he strives to improve health facilities in Karachi and Pakistan. He is proud to be a member of the Sheikh Saeed Memorial Campus and is glad that his work is making a difference in improving the lives of his fellow Pakistanis.