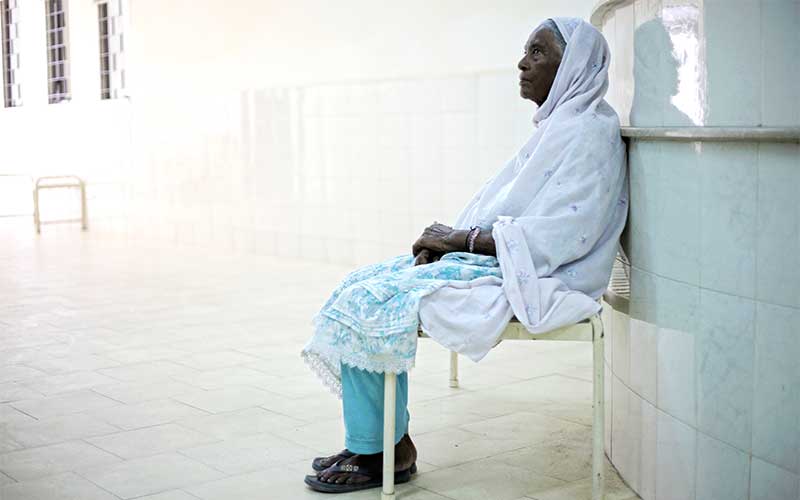 "I was born on Bhit Island a few years before Pakistan came into existence. I have called it my home ever since. I don't remember if Baba, Bhit, and Shams islands had any healthcare facility. We used to take a boat ride to Kemari, and from there we would go to the Civil or Jinnah Hospital to seek medical assistance."
78-year-old Ameena Hajiani was waiting to see the doctor outside the newly opened Community Health Center at the Baba Island. She used to teach the Quran, Urdu, and Sindhi to the children in her community but now she only battles with multiple health issues. The opening of the Martin Dow- Indus Hospital & Health Network Community Health Center has helped her and her community immensely, as they finally have access to a healthcare facility by their homes. Their expenditures have been drastically reduced to just forty rupees for the boat ride to Baba Island as the treatment is absolutely free.
As she sits outside the clinic, she recounts how difficult it used to be to go for a simple medical checkup. "Going to any mainland hospital used to be an ordeal. We had to spend an entire day and hundreds of rupees for a minor ailment. Sometimes women would give birth on the boats. We had been petitioning the Government to establish a hospital here for years, but it did not happen.
"We belong to a fisherman community, and many of us live on daily wages and can't afford expensive private healthcare services. I am so happy that we now have a clinic. Although this clinic has been here for quite some time, it only recently became operational and the Indus Hospital & Health Network started offering treatment without any fee. We hope that they build a similar clinic at Bhit island next."