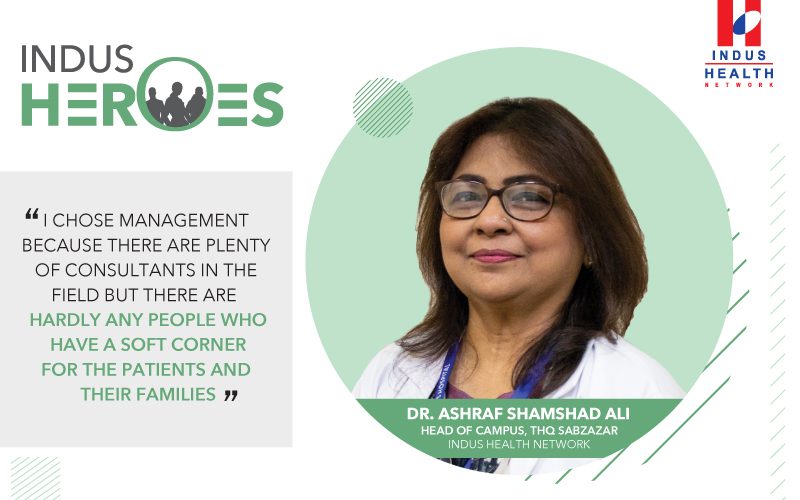 "I chose management because there are plenty of consultants in the field but there are hardly any people who have a soft corner for the patients and their families and who listen to their woes."
A graduate of Sindh Medical University, Dr. Ashraf Shamshad Ali is one of the pioneers of the triage system at The Indus Hospital in Korangi.
Before moving to Lahore and starting work as the Head of Tehsil Headquarter Hospital (THQ), Sabzazar, managed by The Indus Hospital, Dr. Ashraf was working as the Head of the Emergency Department of the Korangi campus in Karachi.
After completing her post-graduation from the Institute of Business Management in Health and Hospital Management in 2009, Dr. Ashraf joined The Indus Hospital in 2010 as the night administrator.
For a woman working the night shift, that too in the Emergency Department of a hospital in Pakistan, the pressure was intense.
"I didn't have any experience but with the help of senior management, I polished my skills and eventually got a complete grip of the things I had to handle," she says. "If I did not have this opportunity, the reason of my life would have been incomplete. Today, by the grace of Allah, I have connectivity with the patients."
In 2017, Dr. Ashraf, with the help of the senior management, launched the triage system in the emergency department and established six triage counters which helped in smooth patient flow and management.
Not only did Dr. Ashraf manage the night shift at The Indus Hospital, but when she was given the charge of manager administration she succeeded in improving the ambulance coverage and interlinking with other hospitals in Karachi.
"I was requested to take charge of Tehsil Head Quarter Hospital, Sabzazar in Lahore from the project phase and Alhamdulilah I have managed to implement the vision of the Indus Health Network of quality healthcare for all. The patients who benefited from Sabzazar Hospital, are happy."