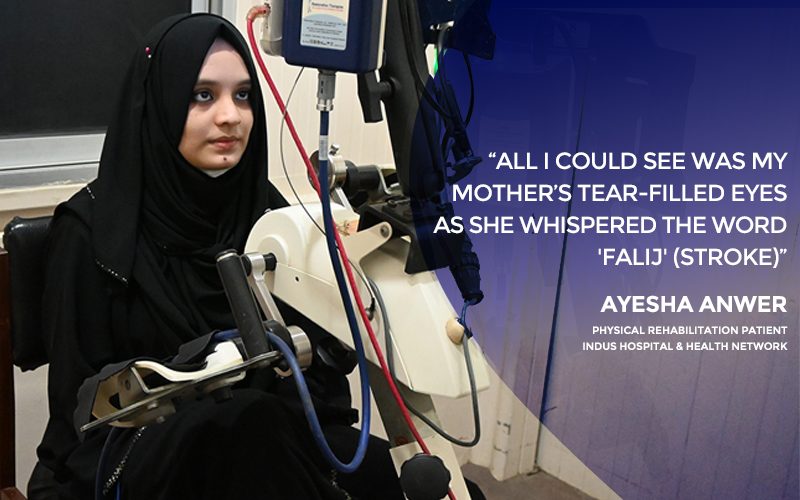 "My world turned upside down when I woke up one day and couldn't move."
For Ayesha, waking up and being unable to move was nothing less of a nightmare. "It was supposed to be a normal day for me. I woke up in my bed and tried to move myself to get down the bed but I couldn't. Suddenly there was nothing left to be considered normal for me and my family," says Ayesha.
"All I could see was my mother's tear-filled eyes as she whispered the word "falij" (stroke)," she added.
A resident of Akhtar Colony's Karachi area, Ayesha, 14 could not fathom her life returning to normal after her entire left side of the body went numb.
"Stroke", a horrifying word with terrible connotations made the young girl rethink her life. "All I could hear was 'isko falij hogaya hai'. It was like somebody had pulled a trigger and I could see my life through a blurred lens as it flashed before my eyes."
After visiting a few hospitals in the metropolis, Ayesha was referred to The Indus Hospital for treatment.
"I was looked after very well during my time at the hospital. After some time, I was taken to the Physical Rehab Center at The Indus Hospital. There I worked with doctors and physiotherapists and did exercises and my condition started to improve gradually. I would regularly use the FPS machine and other equipment at the Rehab Center with the guidance of the doctors and therapists so that I could return to my normal life."
Now Ayesha is back to her old self and is looking forward to resuming her studies.
"The Indus Hospital and their care changed my perception about my life and gave me strength and power to kick the word falij out of my life. Not only did they provide excellent care while I was at the hospital, but they also facilitated me by providing me with a van service so that I do not miss out on any of my therapy sessions. It is because of the quality of the care being provided here that I can walk again and return to my normal life," says Ayesha.
"Mujhay yahan kay doctors bohat achay lagtay hain. Aaj in sab ki waja sai mai dubara chalnay lagi hoon."