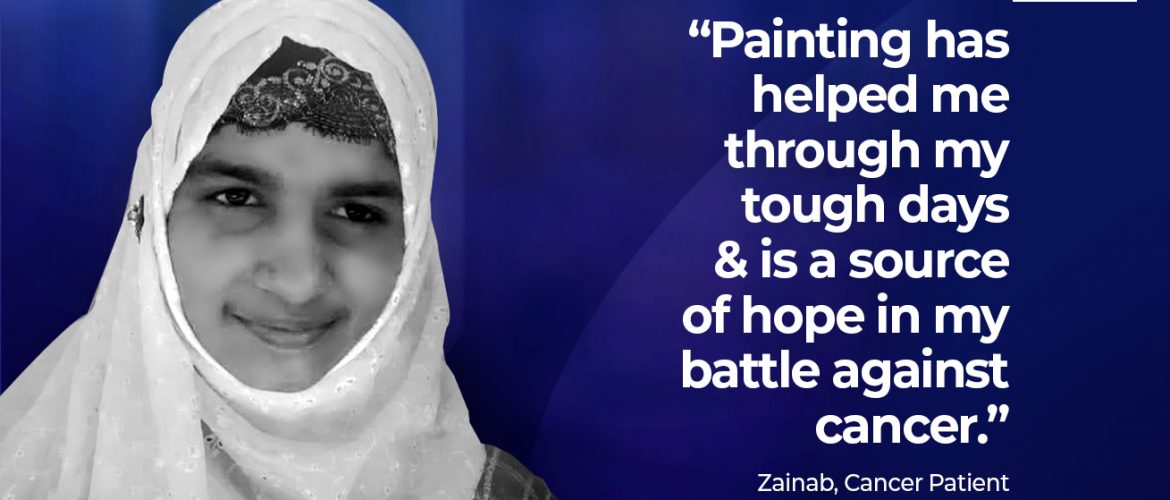 Zainab is a sweet, loving and generous girl, who is always ready to help the people around her. At the age of 12, she started getting frequent fevers and chills with chest pain. The young girl would be constantly tired and often experience shortness of breath. Her concerned parents took her to a nearby clinic and the doctor gave her medicine for fever. As her condition persisted, the doctor suggested them to take her to The Indus Hospital.
After several tests, when the results came back, she was diagnosed with blood cancer. Immediately, her chemotherapy began in the Pediatric Oncology Unit. After more than a year of treatment, she went into remission.
Unfortunately, the cancer is back now and she is under treatment again. Zainab and her family are now taking life one day at a time. Despite all she has been through and an uncertain future, she remains as caring and generous as ever.
During her treatment at the Indus Hospital, Zainab was introduced to art as a form of therapy. She immediately fell in love with painting and now art is her passion. For her, art is a source of catharsis, a way of survival. She expresses her emotions through her art, pouring out her feelings on her canvas. Her paintings are a reflection of her fears and courage. Zainab remarks that, "Painting has helped me through my tough days and is a source of hope in my battle against cancer."
The Indus Hospital in the last two years has displayed her work several times. We are yet again showcasing her paintings, as we believe that in the face of the current adversity that the world is facing, we can all learn something from this young courageous artist. To have courage, strength and hope to keep on going, living life to the fullest despite the fears and uncertainty that lingers in our minds.
To help Zainab in her battle against cancer, type 'Donate' and send an SMS to 9880 to donate Rs.20 (+tax).
Or donate online at https://indushospital.org.pk/donate-to-save-lives/ . For safe doorstep collection, call on 111 111 880.