IHHN & GLOBAL FUND PARTNERING FOR SUCCESS
MALARIA PROGRAM
Malaria in Pakistan
Malaria is a complex disease and a grave public health problem and its distribution in Pakistan varies largely between regions. This disease is dependent upon a variety of factors related to parasites, vectors and human populations under different geographic, ecological and socio-economic conditions. Amongst others, Pakistan is reported to account for more than 95% of regional malaria burden. In Pakistan, malaria transmission has usually been of seasonal and unstable pattern. Pakistan has a population of 208.5 million people, of whom, 177 million are at risk of malaria and has at least 3.5 million presumed and confirmed cases annually (Directorate of Malaria Control). Similar to many developing nations with endemic malaria, an empirical clinical diagnosis is usually made in Pakistan, due to the lack of resources and availability of diagnostic facilities. Moreover, by virtue of the lack of awareness amongst high-risk groups, preventive and curative strategies are not implemented by high-risk communities – significantly contributing to malarial mortality rates.
Global Fund: Malaria Grant
In 2016, Indus Hospital & Health Network (IHHN) secured the Global Fund to Fight AIDS, Tuberculosis and Malaria (GFATM) as a private sector Principal recipient for management of the malaria grant. In this, IHHN has executed the grant in 19 malaria endemic districts of Baluchistan and Khyber Pakhtunkhwa (KP), provided early diagnosis and prompt treatment, distributed Long Lasting Insecticidal Nets (LLINs) and has supported the Provincial Malaria Control Program for malaria outbreak response. Following the grant award in 2016, IHHN was also awarded the grant in the second cycle from 2018-2020. For this, IHHN worked in close coordination with the Directorate of Malaria Control (DoMC) and the Provincial Malaria Control Program to reduce disease burden in Baluchistan and KP. Because of the success of the programs exceptional performance and the scalable and sustainable results of the public-private partnership between IHHN and Department of Health, the Global Fund approved funding for a further three years (January 2021-December 2023) and has continued its trust and confidence on IHHN for the programs' management.
Since then, IHHN has received an A1 rating from the Global Fund for its exceptional performance. IHHN will continue to serve as a co-principal recipient from the private sector, with the DoMC as the public sector principal recipient. IHHN, along with the DoMC and Provincial Malaria Control Program has achieved many milestones – they have provided vast coverage of LLIN's, distributed more than 3.32 million Insecticide-treated bed nets (ITNs) in high endemic districts, screened 4,996,057 suspected cases of malaria and diagnosed and treated 490,906 patients as per national guidelines.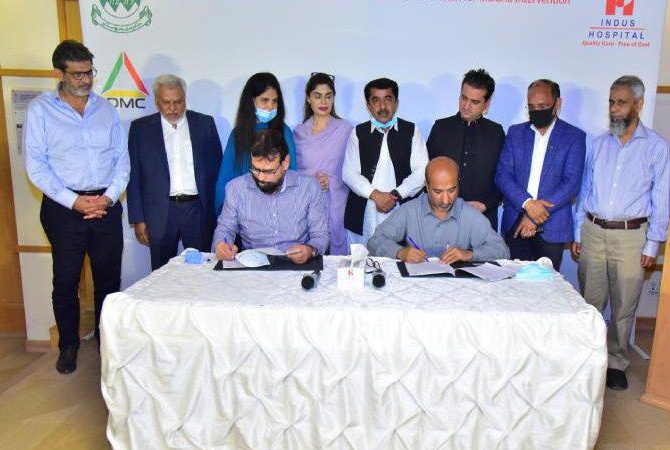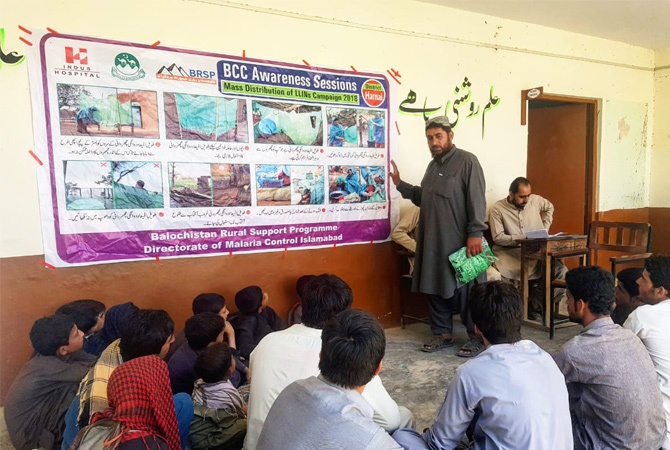 Through this grant, IHHN and its partners have strategized to ensure and sustain universal coverage of multiple prevention services to at-risk populations in target districts by 2023. Also, existing diagnostic services will be strengthened in 60 target districts by establishing 1029 functional BHU and above level public healthcare facilities. Moreover, the grant will allow for the enhancement of healthcare providers capacity on proper malaria case management in all intervention facilities of 60 target districts, while involving the private sector in the provision of diagnostic and curative services according to national treatment guidelines.
Achievements & Impact
Presently, the program has a geographical coverage of 34 districts; 21 malaria endemic districts in Baluchistan and 13 in KP. Under the GFATM malaria grant, IHHN provides (1) early diagnosis and prompt treatment, (2) vector control (prevention) by distribution of LLINs and Indoor residual spraying (IRS), (3) training and capacity building of healthcare providers and (4) advocacy and awareness about malaria.
Despite challenges presented by COVID-19, IHHN and its partners in malaria control performed exceptionally. IHHN's malaria grant team mobilized its work force during the pandemic and ensured that health facilities in malaria endemic regions were not short of anti-malaria drugs, diagnostic equipment along with the provision of PPE. The team devised a mechanism whereby malaria hot spot facilities were mapped during COVID, and appropriate measures were taken. Likewise, while ITNs distribution proved challenging, particularly in the nine districts of merged areas (ex-FATA) which are the border regions between Afghanistan and Pakistan, the team performed well. IHHN, DoMC and DG health KPK completed universal coverage of ITNs in these nine districts by changing distribution modality from two phase to single phase and door to door distribution.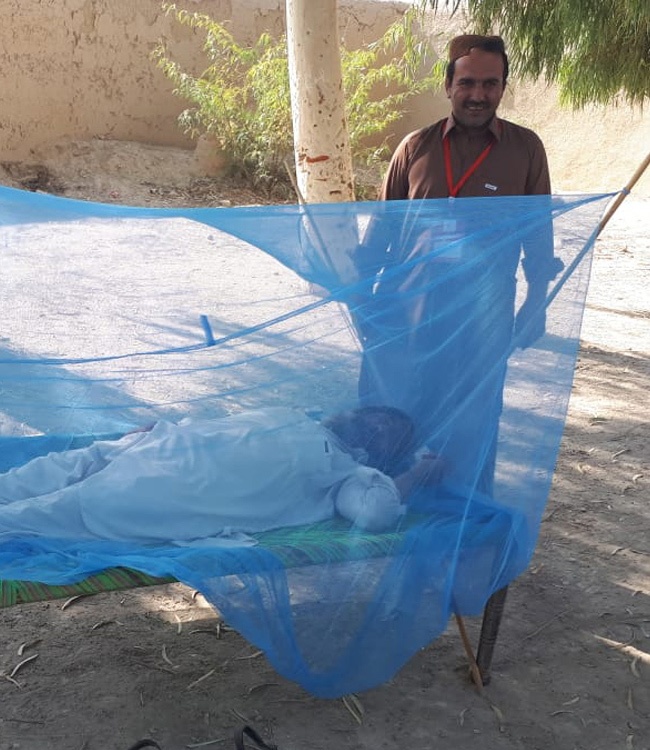 Partnering for Success – Towards a Malaria Free Pakistan
The IHHN, along with its partners in malaria control, have successfully completed three mass campaigns for the distribution of ITNs and provided universal coverage to the population. In the first mass distribution campaign in Pakistan, as part of the tripartite agreement, World Food Programme (WFP), DoMC and IHHN covered 11 districts (5 Baluchistan; 2 KP; 3 Sindh; 1 FATA/Merged districts).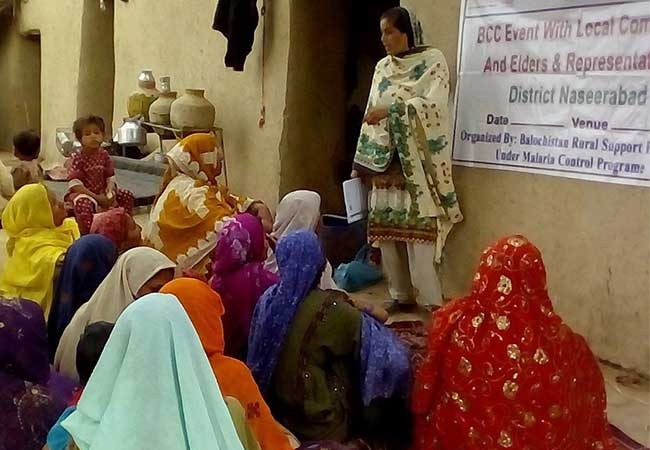 After the first successful campaign, the IHHN and DoMC were recognized internationally and were awarded by The Alliance for malaria prevention. In the second mass distribution campaign, 14 districts were covered, selected based on high disease burden (12 Baluchistan; 2 KP). Moreover, grant activities only began once staff training was conducted on malaria diagnosis; microscopy and rapid diagnostic tests. At the community level, awareness sessions are conducted for both males and females. For females, by lady health workers and for males, by community and religious elders to increase compliance. From 2016-2020, over 46,678 advocacy and behavioural community changes sessions have been conducted and numerous malaria advocates have been trained to promote malaria prevention and treatment in their communities.
The Global Fund grant has enabled the team at IHHN and the DoMC to deliver a greatly comprehensive and high quality malaria control program in Pakistan. The tangible benefits of which can already be evidenced in regions where the program is implemented. Through this collaboration and synthesis of international and national efforts, we can achieve greater progress in the realm of infectious diseases, particularly the high burden of malaria on our vulnerable communities.