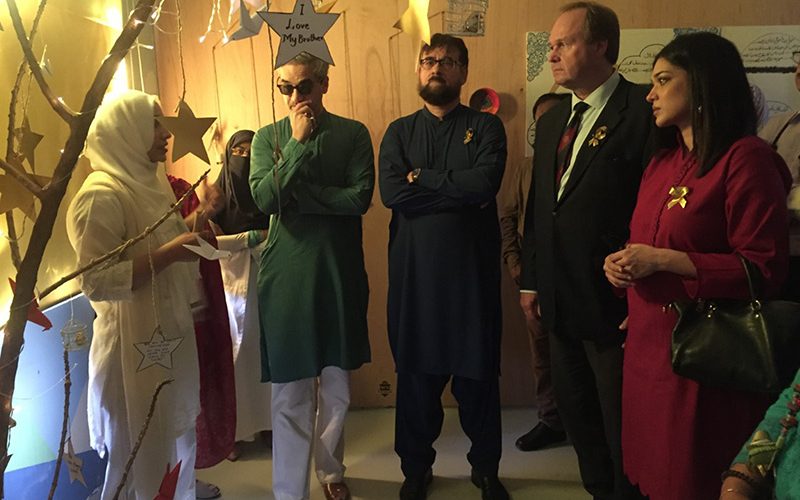 To mark the International Childhood Cancer Day, cancer patients' crafts are being showcased in an exhibition called 'Art-i-Biotic' which is being held at the Pediatric Complex of the Indus Hospital, on February 14, 15 and 17, 2020. In addition to the therapeutic medical play, the Psycho-Social Department also organised a storytelling session premised around a child's journey with cancer.
International Childhood Cancer Day was started in 2002 by Childhood Cancer International (CCI) and is celebrated globally every year. ICCD is a universal campaign seeking to raise awareness and to promote an appreciation and deeper understanding of the challenges faced by children and adolescents with cancer, and their families. The Indus Hospital supports CCI – a global network of 171 member organisations – to address the global goals of reducing childhood cancer mortality and eliminating cancer-related pain and suffering.
The Indus Hospital's Pediatric Oncology services started in the year 2014 when the Children Cancer Hospital merged with The Indus Hospital. The dedicated 85-bed Pediatric Oncology unit at TIH comprises of out-patient clinics, general wards, oncology day care unit, dedicated emergency unit, a covered outdoor play area, psycho-social and counseling services and a hospital based school 'Indus Kay Sitaray'. With a dedicated team of healthcare professionals and volunteers – including students, artists and many other supporters from various walks of life, to-date more than 10,500 patients have benefitted from the free of cost quality treatment at the Hospital.
In 2019, TIH partnered with world's premier pediatric cancer research center – St. Jude Children's Research Hospital (SJRCH) –to work towards SJRCH's global efforts to increase access to healthcare services and improve quality of care to increase childhood cancer survival in Pakistan. TIH will also play an important role to influence and develop national policies to ensure the availability of better facilities to serve children affected with cancer.
The Pediatric Psycho-Social Department designed activities centered around spreading awareness on childhood cancer, desensitising medical equipment, and upcycling non-hazardous medical items that would typically be waste. Counselors created therapeutic activities involving gauze and bandages, blood collection tubes, needle-less syringes, and used vial caps, and used them to help reduce the fear and anxieties that children associate with them.
The exhibition was inaugurated by Consul General of The Federal Republic of Germany, Mr Eugen Wollfarth. Mr Wollfarth witnessed the arts and crafts made by the Childhood cancer patients at TIH and appreciated the efforts and talent of the children under treatment. CEO, Indus Health Network, Dr Abdul Bari Khan was also present at the inaugural.
Renowned television host and actress Sanam Jung attended the event to show support to the Indus Hospital and especially the artwork of pediatric cancer patients. She was presented the i-Indus Ambassadorship Certificate to officially welcome her as the ambassador of TIH.
The talented actor and theatre director, Mr. Omair Rana, was also present at the event. Mr. Rana expressed his appreciation for the efforts of the Pediatric Psycho-Social Department and highlighted the need for providing psycho-social services in all hospitals in the country.
The exhibition was attended by TIH's donors, celebrities and supporters, pediatric patients and their families, the faculty, nursing staff, and other hospital employees.