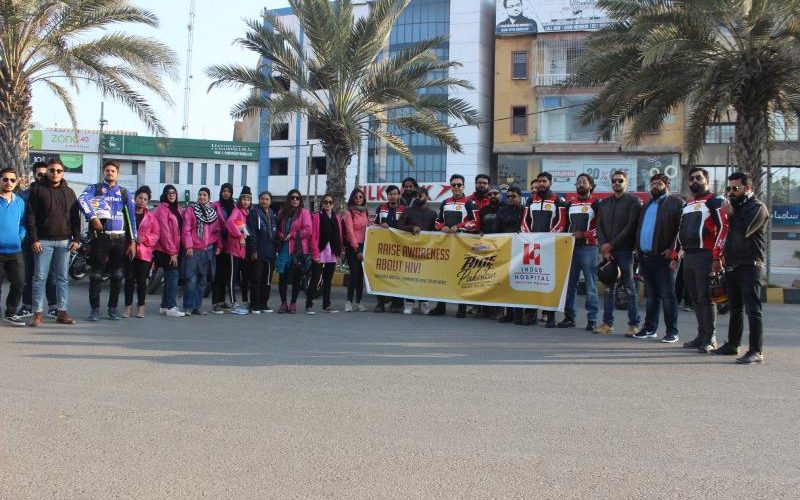 Karachi, Pakistan
December 1, 2019
To commemorate the World HIV/AIDS Day, The Indus Hospital (TIH) organized a bike rally with Ride Pakistan to raise awareness about HIV.  More than 50 bikers including 10 female riders participated in the ride. Led by Ms Fatin Aman Umrani and Mr Faisal Malik, the ride started from Bilawal Chowrangi and culminated at The Indus Hospital, Korangi Campus, where the bikers attended an awareness session about HIV and Indus Health Network's (IHN) initiative in providing free and quality healthcare services for HIV patients.
CEO Indus Health Network, Dr Abdul Bari Khan shared the journey of The Indus Hospital and appreciated the Ride Pakistan's support for TIH. Director HIV & Malaria Program, Dr Mah Talat presented the current challenges Pakistan faces to combat HIV and shared the one health approach of IHN's HIV Program. "Pakistan is one of the countries in the WHO Eastern Mediterranean Region where HIV infections are increasing at an alarming level since 1987. Currently, Pakistan has the highest prevalence among people living with injecting drugs (PWID), followed by people involved in male-to-male sex (MSM), transgender, and female sex workers (FSW). These populations have specific dynamics and they are mostly marginalized population. "There are more than 160,000 people living with HIV in Pakistan. We have around 3000 patients enrolled at the IHN's HIV Program and have collaborated with UNAIDS, Sindh AIDS Control Program (SACP) and many other NGOs to reduce the burden and eliminate HIV from Pakistan".
Speaking at the occasion Dr Aftab Ahmad, Monitoring & Evaluation Officer/ NGO Coordinator at Sindh AIDS Control Program (SACP) also emphasized the importance of the role of communities to spread awareness about HIV and build support for the affected patients so they may lead a healthy and normal life.
Mr Faisal Malik on behalf of Ride Pakistan pledged to support and further the cause of The Indus Hospital. The bikers also visited the HIV Clinic and met with the patients currently enrolled with IHN's HIV Program.